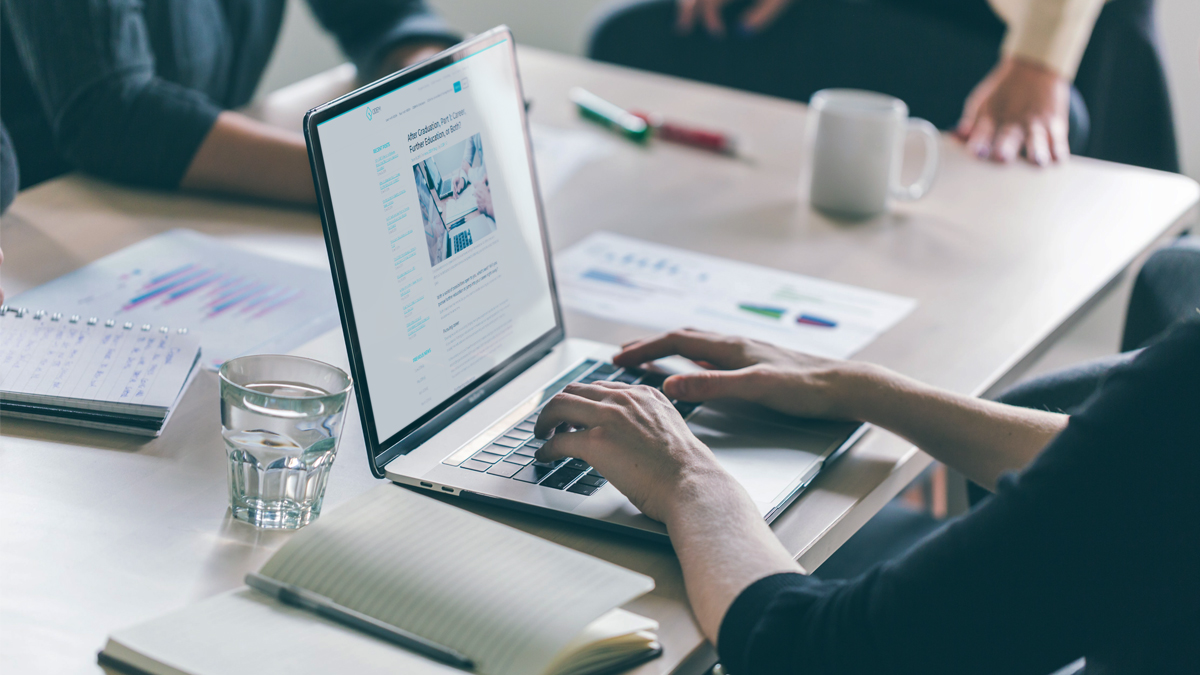 Last week we published an article discussing the paths you can take after you've earned your diploma. In that piece, we highlighted three different paths: furthering education, joining the workforce, or doing a combination of the two with a blended learning platform like ODEM.
We're passionate about continued education because it gives you the opportunity to tailor your education and apply what you learn directly to your work. Online course platforms also provide the flexibility to get into the workforce and figure out what suits you, what you're passionate about, and what you'd like to further pursue.
So, if you're ready to take that first step towards your new career, here's ODEM's 5 step guide to landing your job.
1. Prepare your CV
Your CV provides prospective employers with a quick snapshot of your experience, skill set, and abilities. It's important to tailor your CV to the job that you're applying for. This effort will show the employer that you're detail-oriented, thoughtful, and organized. It will also set you apart from the other applicants!
Tailoring your CV means featuring the most pertinent information first and highlighting the skills that are applicable to the job. List the experience you have that supports your ability to do the job, whether that's employment, volunteer work, or personal experiences, like travel. With each listing, provide context for your reader by explaining briefly why that experience is relevant to the position.
While you want to showcase everything you have to offer, brevity is important. Aim for a CV that is 2-3 pages in length. That's enough to include your work experience, skill set, education, and listed references. If it's not, consider what you can remove — being concise will be viewed as an asset!
2. Write a cover letter
Because we live in a digital world, some people say that a cover letter is outdated and no longer needed. Critics may point to the many external resources, like social media accounts, that an employer can review to assess you. But, consider that a cover letter is like a personal note to the person who's hiring. It's a chance to personally address your potential boss and explain why you're seeking the position, why you would be a good fit, and why you want to work for the company. These are important pieces of information during the hiring process that social media, or a resume, can't provide.
In our work preparing courses for companies and liaising with universities, the feedback is unanimous; a cover letter exemplifies a professional and motivated worker.
3. Resources for finding your job
Job hunting starts with job boards. Search through several different job boards to ensure you don't miss a great posting. Be thorough by using different keywords when performing your search. Submitting an application through a job board may seem daunting, but it's worth the effort, and you can always follow up personally afterwards.
If you're interested in working for a specific company, then their corporate website is the place to start. While you're on their website, try to find who the best person to directly email your CV and cover letter is. While it's important to follow the instructions in the job posting, which will usually ask you to get in touch with human resources, an added note to the actual person seeking an employee can be very valuable.
Social media platforms like LinkedIn, Facebook, Twitter, and Instagram are also very helpful for finding opportunities. Often, companies will post job opportunities first to their social media platforms because they're seeking an employee who understand their company and brand.
4. Securing your references
References are important because they give your potential employer an honest opinion about you. Successful references are people who will give an authentic testimonial by speaking to your character and abilities. Make sure to contact your references prior to submitting their names and ask for their permission, as well as for any necessary updated contact information.
5. Strategy
Seeking employment is an emotional ride that requires a solid strategy to better the chances of success. Consider the various ways you can prepare yourself and stand out from other applications:
Reviewing opportunities:
Create two categories for the jobs you find: first choice jobs and second choice jobs. This gives you a plan of action for contacting employers.
Identify the roles and responsibilities that you aren't suited for so that you can quickly filter through jobs not suited to you.
Securing the interview:
If submitting your application online doesn't work, find a connection to the company and ask for an introduction.
Get noticed: Follow the company and your interviewer on Twitter and like a few of their tweets. This gives you name recognition, an advantage when your CV is being reviewed.
Follow up, and then follow up one more time!
At the interview:
Suggest an on-the-job plan: "Here's what I can and have done to solve similar problems, and here are potential outcomes."
Confidently ask for fair compensation. Do this by reviewing salaries beforehand for comparable jobs as well as the market rate in your field and geographic location.
Ask your potential employer what's most important to them about the role and in their new employee.
Job hunting is an exciting time full of unknown possibilities. As you take on a new role, immerse yourself in the company and learn as much as you can from your colleagues. Each position you hold will provide valuable experience that can propel you to your next role.
As you develop in your job and career, ODEM courses can support you along the way, preparing you for the next job you want, or a promotion in your current position.
Tweet to us! We want to know if this guide helps you secure your next job!
Join the conversation on Telegram, LinkedIn, Facebook, and Twitter.